888 Holdings Plc has pulled the plug on its sportsbook, 888sport, in New Jersey. The move comes ahead of the launch of its rebranded sportsbook, in conjunction with Sports Illustrated (SI).
UK-based 888 announced that its NJ sports betting operations would cease operations, effective December 15, and that all remaining open bets would be honored.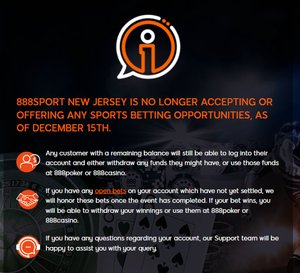 The operator also assured customers that, even though they will not be accepting any new bets, users will still be able to log in to their accounts and withdraw funds if they wish to do so. Players can also use those funds to play at 888poker or 888casino.
888sport initially launched in NJ in 2018. The operator disclosed its partnership with Authentic Brands Group (ABG) — the parent company of SI — and plans for a new SI-branded sportsbook in June of this year.
"By partnering with SI, we have created a strong platform that enables us to build our US position through SI's extensive brand footprint," Yaniv Sherman, 888's Senior Vice President and Head of Operations US, said at the time. "This provides an opportunity to cost-effectively acquire customers and build a profitable business over time."
A Long-Term Partnership
The agreement that led to the creation of SI Sportsbook was made between 888 Holdings Plc and Authentic Brands Group (ABG), which had acquired Sports Illustrated for $110 million, back in 2019.
Under the terms of the partnership, 888 will pay a licensing fee to ABG, as well as other costs which will depend on the number of customers that SI Sportsbook generates.
The deal could last as long as 20 years and may even extend to brick and mortar. ABG will have a 4.9% stake in 888's US operations, with an option to expand to as much as 19.9%.
"This partnership gives us an incredibly powerful platform to build our US position, without incurring all of the costs of building a brand in the US," 888 CEO Itai Pazner said at the time.
"This strategy allows us to invest much more selectively and effectively in the US, with a clear focus on using SI's brand footprint and positioning to acquire customers more effectively, and to build a profitable business over time."
SI Sportsbook to Launch in Several States
SI Sportsbook is already operating in Colorado, where it went live in September, just in time for the start of the 2021 NFL season.
The launch of New Jersey operations is obviously imminent, and SI/888's joint presentation in June said that Indiana and Iowa would be next to open for business. However, since then, 888 has secured a mobile sports betting license in Virginia and has announced plans to launch SI Sportsbook there in 2022.
In a statement, Sherman said 888 was "delighted to have been awarded our license by the Virginia Lottery. This is an important milestone for 888, which enhances our foothold in the US online sports betting and iGaming market.
"There is a growing sports betting fanbase in the state and I firmly believe that SI Sportsbook, supported by our partners at SI, will offer a unique and differentiated experience to our customers which will be well-received."
SI/888 currently has an interest in at least five US states and has already stated that the joint venture plans to expand into an additional two to four states each year.