We believe this is just the start of what will be an extremely popular wager.A new betting format for placing wagers on horse racing will make its US debut on Saturday, May 7, at Monmouth Park, on the track's opening day of the season.
Fixed-odds wagers will be available for the first time and serve as an alternative to pari-mutuel wagering. The availability of the format comes after New Jersey lawmakers gave their unanimous approval and an Australian firm shelled out $2 million on technology upgrades at Monmouth Park to support the practice.
"We're excited to finally be able to offer this new wagering opportunity to our fans," said Dennis Drazin, CEO of Darby Development LLC, which operates Monmouth Park and its retail sportsbook. "We believe this is just the start of what will be an extremely popular wager."
$1000
welcome bonus for
new players

Rewarding ongoing promos
Quality mobile app
Great selection of sports
Fixed-Odds Wagering
A fixed-odds wager is a bet that is made when odds are locked in by a sportsbook and the price does not fluctuate, although in horse racing the price could be impacted by any late scratchings.
Fixed odds in horse races are posted well in advance of the actual race. In contrast, tote wagering relies on tote odds, which sportsbooks offer just before a race to bettors when wagering in pari-mutuel pools. Odds fluctuate until the time of the race, and payouts are calculated once the race ends.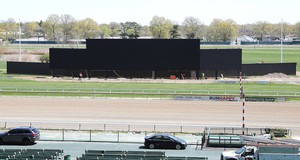 Fixed-odds wagering has its advantages and disadvantages. Alert bettors could find fixed odds for a future race priced higher than expected and lock in for a potentially higher payout, but tote odds can be higher than fixed-odds once the race starts.
The practice has become extremely popular in Australia, which is one reason why Australia-based BetMakers Technology Group is involved in setting up Monmouth Park. The firm paid for the installation of a new 3,800-square foot infield video board with three screens that will display live racing, in-house handicapped segments, pool information, and both pari-mutuel odds and fixed-odds.
The upgrades cost $2 million, according to a report by the horse racing site TrueNicks.
NJ Regulators, Lawmakers Back New Format
The process for bringing fixed-odds wagering to New Jersey took more than two years.
BetMakers signed an exclusive 10-year deal with Darby Development and the New Jersey Thoroughbred Horsemen Association (NJTHA) to offer fixed-odds betting in the Garden State in February 2020. A pair of identical bills — S3090 and A4909 — authorizing fixed-odds betting were introduced in the New Jersey Legislature in late October and early November of that year.
By June 2021, lawmakers had zeroed in on an advancing A4909 across the finish line. The bill passed the General Assembly on a 74-0 vote on May 20. The Senate tacked amendments onto the bill before passing it 40-0 on June 21. That same day, the Assembly unanimously agreed to the amended version of the bill, 71-0. New Jersey Governor Phil Murphy signed the bill into law on August 5, 2021.
The New Jersey Racing Commission (NJRC) voted 4-0 to approve a fixed-odds pilot program during the public session of its November 18, 2020, meeting. The pilot program, which covered the 2021 season, called for accepting fixed-odds wagers in New Jersey "on Grade 1 stakes races of national interest conducted in other states."
BetMakers, Darby Development, and the NJTHA expanded their agreement to 15 years in January 2022.
$1000
Risk-free bet for
new bettors

$1000 Risk-free
on first real money wager
Big welcome offer
Frequent promotions
Excellent mobile app
Expansion to More US States Possible
We firmly believe the launch of fixed-odds marks the start of a model which will be a huge success for all the participants of the racing industry who eventually come on board.Monmouth Park said it will initially set up tellers for fixed-odds wagering at two areas of its facility — the paddock side of the grandstand and the clubhouse, both on the first floor. There will not be self-service betting kiosks for fixed-odds wagering at first, but they will be added in the near future.
Fixed odds will be displayed above the windows in the designated areas and on every television featuring Monmouth Park races. The main video board on the infield will also display fixed odds, with updates throughout the day.
The track said fixed-odds markets will be available for advance wagering within hours of a card being finalized.
Drazin said fixed-odds will be available online through New Jersey's licensed sportsbooks before the May 7 opening day card.
"BetMakers has started the process of engaging with online sports and casino operators with the aim to onboard five sportsbooks for fixed-odds betting in the first half of this year," Drazin said in a letter dated January 24 to industry stakeholders. "Once approved, sportsbooks can bet fixed-odds on all relevant racing through online sites and in addition to brick-and-mortar casinos, OTBs [off-track betting facilities], and at other track venues."
Although the minimum fixed-odds wager will be $1, there won't be a maximum. Monmouth Park said any wager that pays $5,000 on a winning bet or $2,000 on a place or show wager is subject to approval by BetMakers.
Monmouth Park will have a 62-day season starting this Saturday and concluding on September 18. The season will feature 52 stakes races, including 10 graded events, worth more than $8.3 million.
Expectations are that horse racetracks across the US will be watching to see how fixed odds play out in New Jersey. Expansion to other states is a real possibility.
"This is not only exciting for BetMakers and Monmouth Park but for the whole racing industry," said BetMakers CEO Todd Buckingham. "We firmly believe the launch of fixed-odds marks the start of a model which will be a huge success for all the participants of the racing industry who eventually come on board."